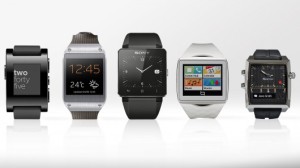 Written by Taylor Gaines: Head of Marketing, The Silent Intelligence
Recently, The Silent Intelligence visited "The Home of Wearables" (aka. Silicon Valley) where we discussed 'What's Next in Wearable Technology'. As Wearable Technology moves from year zero to year one, here is an overview of what we will see happen.
Hardware:
That new smartwatch you just bought for an avg. cost of $189 is definitely enticing, innovative, and cool. But why is the cost so high? What really goes into building one?
What would a watch be without the band to hold it together? Whether you're into leather, or metal, the decision on what to use to further the design will impact the overall end cost of the product.
Internal chips and processors, like Snapdragon from Qualcomm, are needed to make the images appear crisp on the display screen and change from one function to another.
If we take a deeper look at the features that are embedded into the smartwatch, we will come to find that in order to store the data not only requires internal bandwith capacity, but also data centers built to handle the data that is being sent between the watch and the cloud.
To power an object, it's more than throwing pixie dust at it and expecting it to turn on. It takes energy. In a device as small as a watch, the size of the battery used to power it is of course, small. The current challenge is increasing the life of a battery that is limited in size.
Bluetooth Low Energy (BLE) is leading in getting your smartwatch connected to your iphone to allow the bandwith needed for certain audio applications. BLE is the leader because it's currently the simplest and cheapest solution.
If we are going to see more innovation in the wearable technology space, we will definitely need to see the cost per unit for hardware decline. The result in declining hardware costs will be to lower wholesale costs, which will lower retail mark-up costs. When we see innovative products being sold at a lower market value, this allows for greater market adoption and room for the next wave of innovation to begin.
Software:
"There's an app for that…" and now it's on your watch. As of late 2013, there were 200K developers solely focused on building apps for smartwatches. Developers will need to continue to define what apps people value the most and enable them to transmit data between the phone and the cloud.
Privacy, Security and Ownership:
No matter the wearable device, if we want to see the internet of things make our lives easier, we will need to see it also become more secure. What this means is if we want to continue to be authentic, we need to know that our identity and data is protected. This appears is 3 main forms:
Protecting wearable tech from potential malware
Encryption on devices, and external servers
Ownership and Monetization of BigData
Use cases and status symbols:
Some wearable technology like smart hearing aids, have a clearly defined use case. Many, however, are still trying to find out where they belong. Continuing with smartwatches as a primary example, it's unclear whether they will end up dual-ing as fitness trackers, GPS locators, phones, or all of the above. While leading tech companies are figuring out their foothold in the market, fashion companies are now emerging into the tech space and even making strategic alliances with tech companies to create a more powerful presence.
It's important to consider the perceived value of the wearable technology market as it merges with traditional retail. When choosing between a Rolex and a Timex, Rolex is priced at a very high value because the brand, Rolex, provides an aura of high socio-economic status. Timex, on the contraire is a functional product for those that care less about socio-economic status and care more about receiving a very accurate measure of time.
As Wearable Technology continues to build, brands and perceived value will build with it. Apple's new watch may not be the most functional, but it sure has made smartwatches cool again!
(Next Blog Post: Wearable Technology in the Bigger Picture)
References:
http://www.smartwatchgroup.com/overview-smartwatch-industry/
http://bgr.com/2015/02/25/apple-watch-news-sales-smartwatch-market/